"I have often said that I wish I had invented blue jeans: the most spectacular, the most practical, the most relaxed and nonchalant. They have expression, modesty, sex appeal, simplicity - all I hope for in my clothes."
–
Yves Saint-Laurent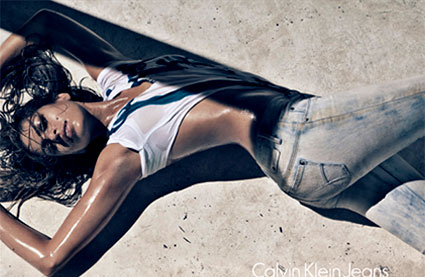 Styles of jeans and how to wear them:
Bootcut/flare
I you need to have hips to make these work best, bootcuts are great for balancing out larger hips and giving you a great silhouette. If you are narrow and are not that gifted in the hip department I wouldn't suggest a bootcut/flare jean, they can swamp your body and make you look bottom heavy and a bit out of proportion.
Kim Kardashian obviously has the figure to compliment the look, unlike Victoria Beckham
looking abit out of style (notice even the indians at the background amazed by her bad jeans day lol)
Straight Leg
The straight leg jean is a more flattering option if you are not blessed with hips as the leg opening is wide enough to go over your shoes but not wide enough to make your body look out of proportion. Even if you have hips you can still rock the straight leg, it's a very flattering cut. Since skinny jeans are so hot right now, if you don't feel comfortable wearing them, then opt for a straight leg jean, it's half way between. When worn with heels they will still give the illusion of super long legs as well. They are perfect for wearing as skinny jeans if you are very curvy as well.
Skinny
Skinnys are very versatile and could work for any body shape as long as they are worn right. If you are slim then you have no problem rocking a great pair of skinnys, they work if you are tall or petite, with heels or with flats and are perfect for tucking into boots. Even if you are on the curvy side you can still wear them! You probably want to wear a longish floaty tunic over your skinnys and a good pair of boots as well, this would look great on the curvier lady. You still get the sexy fit of skinny jeans but it's balanced out with the longer top and boots.
Jeggings
Jeggings are the most comfortable jeans you can wear due to their stretch but again, the rules of the skinny jeans applies for these. They are very clingy and much like second skin but not uncomfortable. I would suggest the jeggings with back pockets because they are much more flattering than the ones without.
Super high rise
This style of jean I don't think is all that flattering for some people, it works if you are blessed with being very tall and slim, otherwise super high rise on a petite or curvy frame can make your figure appear short and dumpy and isn't very flattering. Fashion is not always pretty and my advice to you is to stick with your normal jeans and let the models and celebrities on the runway wear the high waist jeans.
I just had to add this of RiRi coz she is looking soo good, ever had of high rise hotpants!
Jessica Simpson looking horrendous in high rise jeans.
Low rise
Low rise jeans are very flattering on a smaller frame, they give you a great silhouette. Curvier ladies may want to stay away from low rise jeans as they can give the dreaded muffin top which isn't showing off your body to its best. A medium/higher rise is best for your curves.
Boyfriend
These jeans can be worn by anyone, all shapes and all sizes, they are great, super comfy and versatile. They may not be the most flattering jeans out there but worn right (a little tighter rather than super baggy and paired with a simple top) they can look great.
Jeans to flatter your figure:
Smaller butts
– stay away from large pockets or long pockets, they are not flattering on the butt at all. Jeans that will flatter your butt and give it a perkier look are smaller pockets, pockets that don't have the bottom part of the pocket going past where the cheek meets the thigh, this will give the illusion of a rounded butt. Flap pockets are great as well for the appearance of a rounded tush.
Bigger butts
– If you are blessed with having 'junk in the trunk' you can get away with pretty much any pocket style, no pockets, longer pockets, flap pockets, bigger pockets… The pocket style I would suggest staying away from is smaller pockets, if they are small, the placement is quite high up on the butt or rounded like Siwy, then it wont flatter your butt to it's best ability. Also stay away from super low back rises, nobody loves a butt cleavage!
Other Denim tips to remember:
∆
When wearing heels with your bootcuts or straight leg jeans make sure the hem is about 1cm off of the floor, if the hem of your jeans covers the heel it will give the illusion of longer and leaner legs.
stupid technology, this is what it brought up on how jeans should fit on heels. hahaha but i hope you get the picture.
∆
Wearing jeans with pockets where the bottom of the pocket hits where the cheek meets the thigh is perfect, it makes you have a rounded and shapely butt.
∆
If your jeans are a little too tight and are giving you the dreaded muffin top, wear a looser tunic to cover it or try dampening them and stretching them out gently.