Eyelashes extensions are the latest trend to enhance your appearance

.
But i must say they come with A LOT of hassle, I can say this out of personal experience because I spent the last few days stuck to the mirror for hours on end, trying to glue on a bunch of little bristles on to my face.
Believe me, it is not at all close to as easy as i had imagined it.
First the glue kept drying up, the tweezer kept letting go of the lashes and they would fall off, and
my eyes wouldnt give in to the pressure of looking beautifull and were a rainfall of tears. This obviously did not help the situation.
These are only a few of the hassle of having sexy eyelashes, not mentioning not being able to
properly wash your face or oil it since you dont want the hours put into it, to go in vain.
Nontheless I must admit that having a bunch of long curly black eyelashes is the sexiest thing I have
tryd in longer than i can rememeber.
There is something about those captivating eyes that makes you feel glamorous, sexy and flirty all at the same time!
I finaly got my cousin Camelyn to perfom this what i would call surgical procedure (only coz of the tweezers and the time spent - abit blonde) and I must say i looked SEXY.
(the pictureabove is of the exact lashes i used, individual lashes work much better than the ones that are joint in a row, since they last longer)
My vanity had the best of me and i wouldnt let Camelyn stop adding more and more lashes, the fuller they became the more i wanted, she is a fashion guru and obviously knew when abit more was abit too much and stoped ( i honeslty dont blame anyone wearing peacock fethers on their eyelids, they obviously just dint know when enough was Enough).
(obviously this picture makes the feathery lashes look good, but its only coz its a picture! cant imagine myself walking down the street with those... or can I..?!?! lol )
( thats e with my eyelashes all done lol bt honestly i dint get a chance to take a pic but next time i will and add it as a comment here :-)
The after effect makes it all soo worth it, and in the true sense its not such a nerve breaking
process, since my cousin managed to do it in barely half an hour. I gues it was just my left handed
ameture skills that made it look soo distressfull. (sorry to Kellen and Jacky for giving u the wrong
impression lol)
Oh and my eyelashes lasted almost two weeks, though i must admit i was abit too inconsiderate of there needs, but what cani say.... Long weekends :-)
So eyelashes
ARE TOTALY WORTH IT
and as i write this blog am already thinking of wether i can get them done again Tomorrow.
Btw sexy eyelashes are one of Kim Kardashians best (not)kept secret, i think she defines beauty in so many ways, and her eyes are partly to thank for that!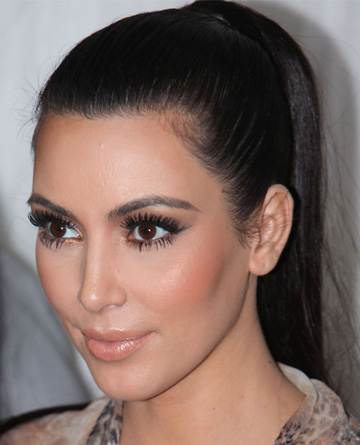 Celebrities looking good in their sexy lashes
Ps
. Drop me a comment if you want the total info on which eyelashes work best and what glue works best with it and who best to do it for you ( i gues i dint just waste loads of hours on my lashes for nothing
)